. . . t h i s t i m e , w e m e a n i t !
Just to give you a small taste, here's a video partially taken day 11 on the "Cadí Moixeró" MTB trail and partially after the tour on the Canigou, a 9,100' peak in the French Pyrenees including pictures of during the tour and cool music by Sean Hayes.

Above, you can directly select the tour-day you'd like to see. Below, are maps, elevation profiles, GPS-files, photos and daily diary logs.

- Jeremy
Tuesday, September 6 - Day One
43 miles - 3,060 feet climb
"For my part, I travel not to go anywhere, but to go. I travel for travel's sake. The great affair is to move." - Robert Louis Stevenson [1879]
After a few exhausting train rides of about nine hours in total including random short eye-naps in strange positions, we arrived in Biarritz, city we rode into four years before and which, to my eyes, hadn't changed much. It was still the attraction of rich folk blended with the younger blood of surfers, who for the most of their time either sunbathed on the rocks or stayed afloat their boards -resembling sea lions- awaiting that perfect wave. Our very first journey took us to Leclerc, an enormous French supermarket, to pack up for lunch, dinner and breakfast. Then we headed off, the first pedal strokes of our tour, upon well-paved roads past Biarritz into St. Jean de Luz, then Hendaye and finally Hodarribia, the first town in Spain along the Atlantic coast. It was truly an amiable feeling to be back in this country and to discern that our travels had finally truly commenced.

A bit further on, in Irún, we enjoyed a lunch composing of Brie, sausage, French bread and a cheap Fanta-imitation. After a coffee break, we attacked the maps and began examining them. Of course, I had glanced at them back home but there was a unique feeling tied with opening them officially, which lent the maps a sense of reality and gave us the impression of discovering them for the very first time. We found that our initial road would lead us back towards Hendaye, in France. The escapades began. The way was somewhat surprising. We needed some time to gradually adapt but abruptly found ourselves pushing our bikes up a wet and stony steep ascent to realize later on we had not gotten as far on our map as we had thought. Nevertheless and through some kind of mystical magic, we were right on track and passed an inaugural "hill" of 1,030 feet in height.

On the topographical plan, the path we were riding was represented as a red-dashed line, which we dissected to mean the terrain would be rough and difficult. In fact, we were forced to dismount once again and shove the wheels up. We decided on stopping shortly before our daily due rate of 47 miles had been reached, partly because it was our "first" day and we had found a perfect camping spot that had been fit for our taste. It had a nice cool river flowing right next to it and a grassy bed, where we enjoyed the company of many slugs.

Tonight is the initial night in our tent once again. The nylon domicile hadn't been used a single time since last year's tour through the Rocky Mountains of northern America. In Biarritz -the day before-, we had spent the night in the open air on a beach. We took a brief explorative glimpse of what would await us the next morrow; a very wet path. Indeed, it looked more as if we'd be going directly up on a wide river, flowing near our campsite. No need for assumptions though, the following day will certainly enlighten our queries and help us concrete a strong plan of attack.

Dinner: Tortellini with zucchini, mushrooms and green beans in a cream sauce with cheese.
Wednesday, September 7 - Day Two
39 miles - 5,060 feet climb
"If a man or boy is missing from the community, it is quite safe to conclude that he has embarked in velocipeding" - New Bedford Mercury [1869]
Today started off grandly, though somewhat late. Perhaps the fatigue of travel caught up with us. Though we had gone to bed fairly early, we barely managed to hit the road before 1PM. Most likely, we had also forgotten the routine of packing up and would need a few days to re-accustom ourselves. Breakfast was wonderful,
if one can count powdered cappuccino with almost 0% coffee wondrous, however the whole had been fit for a king, or at the least, a knight.

Our way up the river commenced slippery, pushing our metallic stallions rather than riding them up the stream. We found that compromising the map would become one of our most difficult tasks after having been caught twice already off-road and being forced to push and pull our bikes -two men to one bike- up a steep, muddy path, which would often cause me to slip and lose grip while David stabilized the back. Upon reaching the top -having gone back down to retrieve the other bicycle- and a somewhat larger road, we desperately hoped for any sign to prove to us the way we had chosen was correct. We didn't find just that but perhaps even better: We were on the GR11, a travel-road for pedestrian voyagers going from one coast of Spain to the other through the Pyreneans. Though it would be quasi inhuman to follow this track by bike all the way, it is still reassuring -when one gets lost- to come upon the good old red-and-white striped road.

We eventually entered the stage-village of Etxalar, intending to buy food and have lunch there. Unfortunately, we had forgotten all about that famous Spanish tradition of laziness called "siesta". The small grocery was closed until 5PM. It was but two as we entered the village. We decided to luncheon at a local restaurant, two menus for €30 [$41], which was all right but by no means cheap and we were increasing our daily expense limit with this extravagance. However, as certain maxims of biology and physics state: No energy in, no energy out! We questioned the local Basques on the route leading to Elizondo only to start an incomprehensive uproar amongst them as to which road was better and how far the town was. For all their useful suggestions, we opted on taking a path similar to the one designated on our map, with the only difference of taking the larger road rather than the smaller trails.

We reached a climax of 1,900 feet only to plunge back down 1,250 feet in three miles to attain a rather pleasant surprise and treat: A Simply supermarket, a huge beast of groceries, where we made more than enough purchases for dinner, breakfast and lunch for a mere €21 [$28]. A few miles farther, we came to Elizondo upon a swift national road. We passed by, ignoring its nice shops and town center since we carried all we required and simply -thanks to Simply- cruised out of town to find a cozy spot and set up our site along the Baztan river.

Sadly, but as often the case, all of the fields alongside this gift of nature were closed off, barred and private. Since the only person about, an aged woman, happening to walk by, couldn't give us any useful suggestions as to where we could stay, we were obligated to camp somewhat illegally, in terms of breaking and entering, but at least freshly washed and nourished.

Now, as we attempt to shed some light on the itinerary we'll meet in the morning, we rest with the resolution of pedaling more miles tomorrow and waking a tad earlier. The early bird catches the worm, or in our case the slug.

Dinner: Couscous with eggplant, bell peppers in a tomato sauce with some slices of Chorizo sausage.
Thursday, September 8 - Day Three
45 miles - 6,630 feet climb
" ... better to be wrong, than right." - David Brüg [2011]
What a great biking day! I mean to say, we did have to shove the bikes up part of the way and at times weren't entirely convinced of the itinerary we were taking but it had gone by smoothly with seldom and slight complications that were rapidly stilled. We woke and headed out with the fear of not having enough food with us to last until the next shopping possibility. So we purchased goods at a cramped and modest grocery store in the village of Errazu. There wasn't much to choose from but we managed to buy a day's worth for just €21 [$28].

We then made our way up higher than ever. Of course we would! This was still the very beginning of our journey and the heart of the Pyreneans lay remotely ahead. During the incline, yet another slippery and mudded trail, we came across a fellow biker, or rather, a fellow Pyrenean who had been "en route" for thirteen days from the Mediterranean coast using the same trajectory we were but in the "correct", from east to west, direction. The rider noted, "It's much easier my way since the map instructions are made for that purpose". David and I were fundamentally Douglas-Wrong-way-ing it!

Up on the path, I felt a nudge from my front wheel. Looking down, I noticed one of the screws had loosened on my brake caliper. The thread had been badly eaten so I pushed my mule up trying not to use the front brakes, which at one point -as I slipped on wet stones- made me fall and injure my hand on a rock, slicing my right palm. It bled a deal but wasn't anything serious. As the climb ended and the drop began, I opted for trying to solemnly make use of my rear breaks. Finding this after a short while too hazardous, we began unloading the gear and I super-glued the
damn screw into its thread. As usual on tours, this emergency repair would have to hold until the end of our travels.

We climbed up to about 2,800 feet to descend from thereon some 1,000 feet, reaching Banca, where we ate lunch by the river. We had magically crossed back into French territory through an invisible and imprecise border. I don't know why but I somehow longed to return to the Spanish side. Maybe I simply enjoyed the fact I was forced to use what little Spanish I had learned and picked up to get by. This matter made me feel foreign, special and a welcomed visitor.

A local woman in Banca helped to fill our water, sharing with us the pleasant knowledge, the great weather we were witnessing would last until the following Wednesday. Waving farewell, we veered on a tarred path that led us to a new record height of about 4,100 feet. We were back in Spain ... ¡arriba! Shortly beyond the border and over the "Col de Lindus" or "Linxus" or however that name is spelled in the Basque language, we entered a pilgrim metropolis bearing the name of Roncesvalles, where many hikers were making a stop to have a beer or yet another or maybe one too many. The church there was baptized "Iglesia de Santiago" and a sign reading, "Santiago de Compostello 470 km [292 miles]," indicated the direction to Portugal through the St. James route. Roncevalles was indeed popular and touristic but you had to ask yourself, "why?" The town bore a church, some restaurants and cafés but not a single possibility for buying the basic necessities and was therefore not a "true" passageway for "real" travelers. I had no idea the St. James pilgrims went by this place and wondered if in fact Roncesvalles had not been exaggeratedly off-course but the GR11 was nearby and it was the path we had decided on taking, or rather, it was the way indicated by our map.

It had been astonishing to both David and I that we had reached Roncevalles in such little time. We had thought we would attain it the following day. David immediately commented, "I made a mistake in the calculations but better to be wrong," then reflecting a bit added, " ... than right!" We ventured further partially taking the GR11, partially riding paved roads and ultimately pedaled through drier gravel roads, which resembled those on the "Great Divide" tour through northern America. Our tires loved this terrain. Scratch that, I love this terrain. Though the energizing effects of our cookie-break were wearing off, we made good pace. Tired, we finally came to a needed halt in our daily adventures at the man-made lake of Embalse de Erabia Erabiako Uharka Urtegia. Woah! What a name! A name David had to spell out for me. The lake E.E.E.U.U. is a quaint setting bordered with pines though the water there was somewhat too warm for my taste and hygienic comfort. The lakebed squishy and reeking of cow dung still offered the tranquil look of a natural environment if one omitted the enormous infrastructure of a dam wall, which could be seen further off in the distance.

We received a visit from one of the forest rangers, who politely informed us that camping there was in no way permitted and free campsites were available several miles away. We pleaded him to let us stay the night, confessing him we were fatigued -after 6,630 feet of climb- and would not pollute the premises. Luckily, he concurred it would be alright for just one night and we were relieved not to have to pack all up again and get back on the saddles. After dinner, we read the maps, concluding that the following day would rather be easy and David assured me we'd eat lunch in a great place.

Dinner: Sardines, mussels, tuna with zucchinis and olives in a cream sauce including brownies for desert.
Friday, September 9 - Day Four
52 miles - 6,730 feet climb
After a good night's rest though somewhat at an angle, which forced me to steady a position so as not to crush David onto our tent's wall, we circled completely around the long-named lake mentioned yesterday. The roads were dirt packed and comfortable. We quietly reached a new record elevation 4,430 feet to fall into the village of Isaba, where we had lunch. In its center, was a small but well assorted supermarket, where we bought cooled yoghurt drinks and some cookies but had decided it too earlier to stock up our daily rations. Instead, we had agreed to do this in the next town of Zuriza. What a mistake!

Zuriza, being a tad too touristic for our likings and bargaining that the prices would effectively be higher there, we decided to ride forth to Anso, next port of cog on our agenda. In Anso it was siesta-time and the shops were closed until 5PM. After cookies, coffee and a Fanta we forced our way forward to Echo, nine miles forth, where we could eventually -as we had thought- find a store. What a drag! The entire town of Echo was having their annual fiesta of four days and all was shut tight. Our last hope and possibility remained Urdués. In trying to attain this village -a mere 4.5 miles away- via our guided maps, we quickly found it painstaking to on one hand find the path and on the other take the path. After a few failed attempts, we turned back and took the tarred road all the way there, which though longer was indeed more effective. Our quest for food remained an illusion. In Urdués -and though our guide insisted there would be a small grocery store there-
we found absolutely nothing. All this reminded us too well, one must take the possibilities when they come instead of hoping for better and getting zilch.

The greater moral of the story did not help us much in our situation but there was an up-side nevertheless: We had leftovers. Out of Urdués we escaped, found our route and with it a small source trickling very timidly with water, which sprang from seemingly nowhere or rather magically from the ground out. There were small pools of fresh clean water left behind within the rocks. We used our cooking pot to shower ourselves and cleanse the sweat and muck from our bodies. Preparing our dinner, we organized breakfast for the next day, which would be made up of powdered cappuccino, bread, and cookies, desperately wishing to find food ultimately fast in the morning of the next day.

There was a strange difference in the tallied distances between our cyclometer and GPS today. The cyclometer read 69.3 miles, while the GPS indicated only 52.4. Usually I trust my onboard device more than the interpolated satellite system because the cyclometer registered every physical rotation of the wheel, giving a more close-to-physics-based output. Today, however, I felt the GPS had won and doubted we had traveled 69 miles. At least that is what my legs are telling me.

Dinner: Carrots, leftover beans, leftover eggplant, leftover pasta and leftover couscous with the rest of our Basque cheese.
Saturday, September 10 - Day Five
49 miles - 4,210 feet climb
"One doesn't discover new lands without consenting to lose sight, for a very long time, of the shore." - André Gide [1925]
Bright and early wake up call thanks to David, we got up at 8AM and festered on our somewhat weakened portions at breakfast. Then I took another cold shower from the pools. Surprisingly, David refused to do the same today, whereas usually I would be the one reluctant of feeling the cold vibes of mountain water.
Our track this morning was a gravel-stone-path, which quickly transformed into rougher terrain, forcing us to dismount and push, sometimes relishing a three-minute ride before having to get off our rides once again. The way down was worse; a single track composed of stone steps, too steep for mountain bikes. I reckoned debating if anyone -even the world champion in downhill- could have mastered this leg.

We made it down all right to Aragüés del Puerto, where we found a grocery store, having just opened in front of our eyes, the moment we arrived at 11 AM. We "shopped till we dropped" there, this being an unbalanced side-effect of yesterday's bad omen of insufficiency. We were comparable to people of the older traumatized post-war generation, who stock up on canned food, "just in case". Exiting the store, the bread-man appeared in his utility vehicle so our collection was rich. We had all we needed and our stress diminished.


From there on, we rode on asphalt to Asìa, another splendid quaint town of stone houses, tight street passageways and cobble-stones, for the most part inhabited by those of the third age. Next, Borao, we lunched in the picturesque scenery of Pyrenean mountain villages. In almost all these places were we able to fill up our water supplies thanks to "fuentes", source-fountains. This made me remark that it was a facility that sadly did not exist in so-called modern societies. Passing through Aratorés, we pedaled along paved roads to Castiello de Jaca. Since our cooker's gas supply had strangely diminished rapidly, we decided on altering our route to pass by the bigger city of Jaca some 4.5 miles south of C.d.Jaca.

Upon entering the city, the site was overwhelming: Great military compounds, larger buildings standing side by side, banks, supermarkets by the dozen, traffic lights; a site we hadn't seen since Biarritz. A mini culture shock was induced immediately upon us, who had been living like cave men, roughing it in the wild. The unlevel cobblestones disappeared and younger people were sitting in cafés. As we gas-ed up a well dressed woman stepped out of the station store holding in one hand a plastic-packed sandwich and in the other an mini ice-cooled bottle of Vittel. It might not have been long ago since we had seen such civilization -in fact just five days- but our gathered experience from other tours seems to have enhanced our ability to slide more easily back into more natural habitat, making it awfully strange to have to pull our bikes to a halt when a light would go from green to red. Jaca was indeed a metropolis, for us at any chance. We filled our cooker-bottle with 85 cents worth of octane 98 and made our way to Mercadona, a cheap supermarket-chain with a catchy tune David could sing for you but I won't for the jingle brainwashed not only us but those who exited the grocer-extravaganza still buzzed from all the shopping decisions they had had to face were chanting or whistling the anthem loudly without knowing it.

David and I entered the food paradise and left it physically spent and fed up of Jaca after having been there for what probably had been a whopping hour. It was time to return to the homely Pyreneans and tiny towns of the mountains, where life seemed less diverse and easier to digest. Lucky for us, we needn't take the same road back north but could cut through towards the northeast and the transitional destination of Senegüé aboard a national road along which a brand new highway was being constructed. As soon as we arrived there, BANG, we were back in the micro-cosmos of rural life and filled our water next to an old woman cleansing her stovetop at a fuente behind the stone church.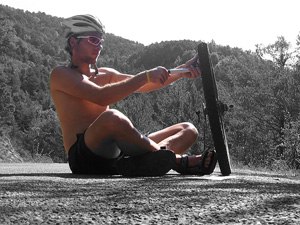 It was time to find a spot for the night but one with running water of some kind since we desperately needed to wash some clothes as well as ourselves. A long period of erring about the area prevailed when we stumbled upon the ideal site. It had even more to offer than we had hoped for with a great clear river, deeper than any we had had before including even picnic tables and toilets. Though I doubted any of us -David or I- would venture into the claustrophobic stinking stalls. I asked David and yes, he agreed and said, "I wouldn't even think of it!" When you get used to doing your business outdoors, you tend to grow used to it and eventually you like it, even prefer it.

After having washed our clothes, put up the tent and neatly arranged our home for the night, we checked to make sure nobody could see us while we washed ourselves in the river. As I prepared supper, David repaired a tube he had changed during the day because a grand thorn had penetrated his tire carcass, making this flat number two on our tour. This day included, we are still a little behind schedule but hope is on the rise since tomorrow is Sunday and we had bought enough food for two days, meaning less time would have to be spent on shopping, ergo more for riding.

Dinner: Cheese-sausages, green beans and potato-purée with cheese and to top it off a fine wine ... Fanta lemon.
Sunday, September 11 - Day Six
40 miles - 4,330 feet climb
"Who cares about what's behind us!" - David Br&uumg; [2011]
Our sixth tour day turned out to be one of the toughest but not without a side order of glory to accompany it. Our morning breakfast was a feast, even including milk and corn flakes. One morning-dip in the river and we were off. My shoes had put the pressure on some soft areas of my feet, which had become red and pained when we climbed. Since this day would bring a few challenging ascents, I bandaged up these crucial areas.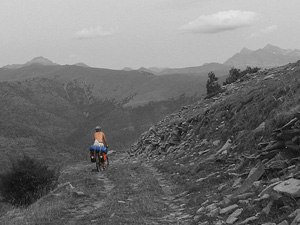 In Olivàn, we stocked up on H2O and dropped near the stone-walled church into the wild. Our path was wicked and extremely rocky. Olivàn had been about 3,000 feet high and we elevated up these stony trails some 2,900 feet to obtain our -until now- highest pass at 5,840 feet. From the top, one could see far above the wooded mountainsides down below and spot some treeless peaks further on. Even more distant, we could catch the glimpse of some greater peaks, probably summiting at 8,200 feet. Lunch in these heights was wondrous but barded by the uncertainty of our whereabouts. Our map had sadly given us too little information on the exact trajectory. Of course at times like these, as you're spooning out your vitamin-bombed kiwi dessert, your mind wanders ahead of you and your eyes begin to stare upon the distant paths below, asking yourself if the rest of the day -or maybe even more- would consist of trial and error in the quest of getting "back on track".

We needed a sign. Anything that would lend us absolute clarity and say, "Hey guys! Over here! You're on the right way!" People here were scarce. We had passed two bikers before hitting the summit but had still thought that all was good and there had been no need for worry. Nevertheless, decision needed taking and we descended, leaving the Peña Oturia pass into the unknown, guessing at every crossing which way to steer towards. When finally, upon superimposing the mountaintops in our view with
those on our map, the picture they made seemed to coincide and peaks fell into place. Then, a switchback appeared and could be made out to be the one drawn exactly there on our map. If that hadn't convinced us, we ran into a village just as the map indicated. There was our sign and now, we knew for sure where we were.

There was no actual board or plate bearing the name of this abandoned and half-decapitated village of Sasa. The place resembled a ghost town, the exact scenery you'd want if you were planning to film a horror movie or as we mused, the perfect setting you'd thrill for to have a game of paintball in. From then on our spirits lifted and made the loaded bags we were carrying lighter. For the note, being lost on the way up is no big deal because most of the time you know you'll have to get higher anyways but if you take the wrong down, this could mean in a worst-case scenario having to turn back and re-ascend the entire mountain. Furthermore, the difficulty here in pedaling on rocky terrain with weight on your back can be explained as such; it's 1/4th pedal-motion with resistance, which brings you forwards, then 1/4th lost motion as if you were pedaling into nothing, moving you nowhere and forcing you to rebalance yourself, then ground, then nothing again. This is the motion you carry on in the lowest gears, making biking very uncomfortable, especially on the behind. Needless to say, dancing, or standing on the pedals is useless because keeping the load in the back level can only be done well while seated. Still, in climbs above 13%, shifting some of your weight to the front bars is necessary otherwise your front tire may have no grip and travels left and right wherever the resistance is weaker.





After the infallible proof of our exact position in Sasa, it was a simple task of rolling down or better said, tumbling down the trails and roads into Fiscal and back down to 2,600 feet of elevation. So you see, the Pyreneans are a real up-and-down story and flat is extremely seldom. We enjoyed a coffee and Fanta at a pay-campground in Fiscal and discussed our approach for the following day. We needed to advance close enough to a town with a supermarket facility to buy our goods there for the following day or two. So we crossed the rio Ara and rode up to Sarvisé, where found a pretty quaint spot with tables, grass and a river close to the road.


Immediately after we had just put up the tent, a guarda civil 4-by-4 pulled up and two officers stepped out to explain to us -as if we hadn't known but we pretended we hadn't- that it was not allowed to camp there and we'd have to leave to find a pay campsite elsewhere. They checked our passports, seeming not quite sure of what to do with or make of the documents, jotted something down on a random piece of paper and slyly told us to dismantle the tent for fifteen minutes as they drove off just for the sake of show. We did just that and waited for nightfall to build up our tent again.

As I write, I'm constantly forced to switch my lamp on and off again with every passing vehicle as not to attract any further attention. We will see if we don't get the visit of la guarda civil tonight or perhaps tomorrow. Then, we'd probably have to pay a call to the station and a hefty fine. Rules and systems sometimes get in the way of a traveler's lifestyle because they have not been set up to meet our philosophies but we've grown accustomed to having to resort to minor criminal activities in order to get a night's rest well deserved.

Dinner: Broccoli, peas and bell peppers with cheese and spinach tortellini in a cream sauce and extra cheese.
Monday, September 12 - Day Seven
52 miles - 7,000 feet climb
"At mealtimes, they sat in the snow, and each man ate out of an aluminum mug they called pannican, into which everything was dumped at the same time. For utensils, each had a spoon, a knife -and his fingers" - Alfred Lansing, Endurance [1959]
Although exhausted and in no state of mind to write, I will do my duty to cross off and finish this day. This morning, right before we were about to make a break for it, we received yet another visit from la guarda civil, who angrily asked us if we had spent the night there. In was the same man from yesterday and his tone was strict and induced problems were ahead. We stupidly answered, "No." twice even though both parties knew this hadn't been the fact but I thought this was the answer that was needed. I resorted in playing the dumb tourist as the officer took my passport once again, intensively examining it, going back to his vehicle, pretending to act out some kind of professionalism and authority. The cop rang someone up on his cell and I recall thinking, "Oh shit! We're in for it." but then realized from the conversation, that he was talking to his son and nobody from the station. In the end, they said nothing more and left us, waving formally goodbye neither grinning nor smiling but we were glad to have escaped a fine and been spared from more trouble. [Nota: see the letter I received after having been back home, two months later]

We traveled two miles north to Broto, a slightly larger commune and therefore thriving and hosting several smaller supermarkets, bakeries and cafés. There, we purchased enough for two entire days since it was better to be sure than sorry. We rode right back down to Servisé, joking about running into our friends from the guarda civil and turned eastwards in the direction of Fanlo, a small picturesque village. We hit stony trails and began climbing.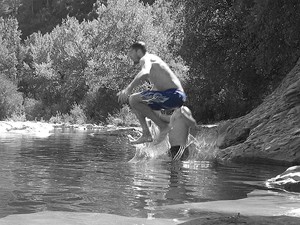 I must say I had completely miscalculated our daily ride by having examined the wrong elevation profile the night before. Much to my surprise, we were surpassing the 3,900 feet, I had fixed as maximum by topping at about 4,900 feet.

The road was tough and David had not been at his best that morning, which would later on pass on to me not being at my best. The view, however, of monstrous mountains in the background and especially the view of what had already been achieved behind us was fantastic. We rode back down, thinking of those biker fellows who would be riding up this way in the "normal" direction. We decided to have a break in Escalona and stopped one mile short of it, having discovered a great river of rapid moving waters, filling up large pools between rocks and boulders as it scurried through, boarded with trees ... just perfect! It was a real treat to take a swim and cool off in the green lagoons after our meal. In Escalona, we enjoyed coffee and Fanta at a café for just €3 [$4]. One can't bitch about the prices here. In fact, most of our shopping is done for just under €20 [$27] per day for two people. Lapuña followed Escalona, then rocky paths once more, heading up and up.

The pesky flies daunted us at around 4,250 feet and insisted on flying right around our noses, eyes, mouth and ears. Since our speed was diminished [to around five mph] by the steep uphill there wasn't anything we could do to shake them off except to wave our hands furiously in the air or try to blow wind at them while catching our own breath. It's one of those things I hate the most. In full concentration, sweating like crazy, pedaling hard,
the nagging buzz around your head makes you go mad. Even worse is when one decides to enter your throat just as you go for a breath and you end up stopping all motion and having a coughing fit. Once we reached the summit, which was also higher than anticipated, we came across some French retirees standing next to their cars, impelled to staring as two sweat-wet figures approached the top. One of them told me they had been to the summit and jokingly added, that they had done this by foot and hadn't the luxury of a bicycle. I simply grinned looking at the peak, some 1,000 feet higher from where their vehicles had been parked and thought, "Try it, old bag!" while stuffing in a cookie to fill up my energy reserves. David meanwhile was busied with studying our further route on the map.

In misleading my mind into believing that we wouldn't travel farther up than 3,900 feet that day, I reckoned after summiting the Collada pass at 4,900 feet and having risen some 2,950 feet from Escalona that we'd ultimately be heading downwards from thereon after. This wasn't the case. David had another flat so we quickly managed that and were underway riding higher instead of lower. After a while, I felt under-sugared so we had a break and ate more cookies. Furthermore, we were not entirely sure of the way, which added to my discomfort as in how far we'd get at all that day.

As we topped out once again and discovered a cabin, which matched one that had been drawn on our map, I was relieved and prepared for the drop freed from worry. We blazed rapidly downwards on a loose medium-sized gravel trail. The entire bike was under a lot of stress; especially the forks, wheels and breaks. I had gotten a little worried about David's breaks. The pads were getting extremely thin. Before our tour, David had been on a six-day bike excursion, organized by his university to the Alps. I had performed a complete bike check and renewed the pads and gears for that occasion but neither of us had bargained the six days of riding would have used up a significant amount of break-pad-material and hadn't thought of changing them again. I had brought with me replacement pads but only one pair so I opted on constantly keeping an eye on David's pads during the following days and waiting for the first ones to scream, "I'm done!" to replace them. To find replacement parts anywhere in the Pyreneans would probably be as likely as bumping into one of the two black bears -which had been reinserted in these mountains by the French- along our way.

We descended about 1,650 feet into Viú, tired but in good spirit. After Viú came Senz, where we filled our water at a source, an old woman told us would refresh and revitalize our senses. Then, for the first time since Fanlo that morning, we hit pavement again and zoomed down to a river, where we decided to camp. The river hosted a hydroelectric plant just a quarter of a mile above our site so we could only hope they wouldn't release any water that night while we slept or that they'd at least let off some kind of siren to warn us we'd be flooded beforehand. Of course, camping in a place like this isn't what one would call intelligent or safe but we were more than thrilled to have a nice spot to rest, clean our clothes, wash ourselves and stay clear of the road so no guarda civil would take notice of us.

We took out the cooker out and commenced to prepare dinner when all the sudden the gas bottle went up in flames. The dry grass nearby quickly caught fire but our reflexes were swift enough to stomp it out before the fire spread and became uncontrollable. At first, merely reasoning that the dried weeds had caught fire, we sprayed water on the ground, removed the grass around the cooker and went back to cooking. Once again, the bottles caught on fire and flames were spitting out the pump. After a brief fire dance, I inspected the cooker and pump and we discovered the bottle was leaking. This is where organization is important. Before we started the tour, the man in the outdoor shop had told David we didn't need a rebuild kit for the cooker. "Just oil the parts that need it and all should be fine," he assured David. I, however, having already had my problems with it on our very first tour, ordered the kit anyways and rebuilt the cooker not forgetting to pack the remaining parts and pieces for our tour. This had two positive effects. For one, I knew every part of the cooker, having completely dismantled it already before and two, we had spare parts with us. The reason for the leak was promptly found and the joint responsible for the mishap replaced lickety-split. Without the pre-thinking, we would have been without cooker for the remainder of our trip, making the device useless dead weight but now, we sat down on the burnt grass, gaping at the milky way and savored a well-deserved warm meal.

Dinner: Corn, bell peppers, tomatoes with risotto and Parmesan cheese in a tomato sauce.
Tuesday, September 13 - Day Eight
58 miles - 7,000 feet climb
"He who would travel happily must travel light." - Antoine de Saint-Exupéry [1939]
What great weather we're witnessing here in the mountains! Ever since day one, not a single drop of rain has fallen. Blue skies and warm climate make bike riding -for me anyways though I know most people prefer it a bit cooler- perfect. Sure, we sweat a great deal and the white salt stains on our clothes at the end of the day prove it but good weather makes everything from cooking to the drying of clothes uncomplicated. During a 10%-ascend today, I looked down at my cyclometer to read 97°F ... not bad for mid-September!

Now that we've been "on the road" for over a week, I'd like to make mention of our daily schedule; it somehow crystallizes itself automatically over time to form a sturdy structure, which becomes unbreakable. And why not go with something that seems to work rewardingly?

We wake at around 8AM, not by means of an alarm clock but simply get up when our eyes open to the sunlight. The time varies usually depending on how tired we are and where we placed our tent. In mountains, sometimes the sun takes a while to crawl out from behind the peaks, resulting in a later waking. Mornings generally, we take it easy. If there's one thing I hate, it's getting up and rushing everything. I mean we are on vacation and not in the helter skelter of everyday life. Anyways, 8AM is early enough and I would usually never get up at that time if I were on vacation back home. We breakfast, chill a bit, plunge in the cold-water stream and check the bike gear such as spokes, wheels, tires, breaks, lubricate and clean the fork before packing our stuff and hitting the trails.

Usually, we're ready by ten or ten-thirty. A tradition of ours is, while kicking the pedals the first few feet of the day, to sing a couple strophes of Canned Heat's "On the road again", signaling the travel had commenced anew. Some four hours of riding drains our dinner and breakfast reserves when we take a break for lunch, which lasts about an hour total and is usually composed of meat and cheese sandwiches with either tomatoes, carrots or cucumbers and fruit. We don't do siesta. It would just rob us of riding hours and I find it rather fatiguing than invigorating to take a nap during midday. At around 5PM we'll have a cookie break to maintain our energy levels with sugars for the last few hours of riding. I find it actually important and not just gluttony. If we had too few treats, I feel it right away a few miles onwards. My legs would become gelatin and my mind would wander off-track. In the worst case, I'd start feeling the effects of hypoglycemia; cold sweat, blurred vision and light-headedness. Once the cookies are in, the relief is almost immediate thanks to the short sugar-chains. In addition, the longer ones help to sustain that effect awhile longer.

Around 7PM, we start scoping the landscape for an optimal site to install our home for the night. This always reminds me of the adage, "Where I lay my head is home." So we're somewhat picky about our spots and grade them. We look for running water, cold by preference, and a level ground, not too hard, for our tent. Trees are not generally bad to have around for we may use them to put up a clothesline and morning dew is reduced in their presence. On this tour, dusk begins around 8:30PM and since I'm not fond of cooking in the dark, we set ourselves a maximum place-finding-time-limit between 7:30 and 8:00. Up until now, we've been really grateful for finding superb camping-spots though somewhat illegal; but let's get real, everybody knows that anything that is not explicitly allowed, is considered an offence of the law.

David orients the tent in the best possible direction and we set up our new habitat, trying as much as possible to keep everything organized and in sight. We collect all our trash and live by the motto, "What you bring with you, you take out!" a sign that can sometimes be seen in national parks of the US. We wash our clothes and ourselves always keeping in mind that the next day may or may not end with a water possibility. If small bike-repairs are needed such as fixing a pierced tube, this is the time David will get to that while I start organizing the necessary for dinner. Cooking takes us half an hour, at the end of which we enjoy the pleasures of eating what we have transported with us all day long or even for two consecutive days or more. After supper, we'll wash the pot and cups and get ready for bed, discussing our itinerary for the following day and recording our achievements in logbooks. This has rendered itself very helpful for planning since it enables us to estimate if our set-goals have been reached, how far we'd still have and opens the ability of readjustment, fine-tuning or -flat out- rethinking our strategy. The logbook is crucial to success and without it, we may have found ourselves day thirteen with the eastern coast and our ultimate goal unreachable in time.

Now about today: We decided on skipping a small portion of the "dictated" route, keeping in mind that there is no "right" way but the way you take. We try to stay true to mountain biking as much as possible but compressing sixteen day trip tours in fourteen days would definitely need -though not much but- a little trimming. Especially since these day stages were thought for riders without gear. Furthermore, comparing our cyclometer-readings from the profile diagrams in our guide, I wasn't entirely convinced of the guide's prognosis. We would probably physically ascent more than stated.

The segment we cut out took us on a short cut via national roads, leading us from our campsite below the hydroelectric-dam to El Pont de Suert. Needless to say, the road itself was nowhere near flat -something that appears to be taboo in the Pyreneans- but rose steadily as opposed to trails, where the climb-rate would vary unpredictably as did ground terrain composition. To add a strange side note; with increasing climb rate, the terrain itself would deteriorate, adding immensely to the difficulty of riding.

Arriving at El Pont de Suert, we stopped at a supermarket to buy some cold soft drinks and ate heartily our lunch on the perfectly cut soft grass behind a church. We had -once again- entirely forgotten that dogmatic time of siesta and so, returned to the supermarket to find its doors shut. We stopped by a café and inquired if any stores were still opened. Luckily, there was a small grocer just down the street, to whom we rushed, leaving our coffee and Fanta half full. The clock inside the shop read 1:45 though it was well after two. Perhaps a mistake on behalf of the grocer but a small miracle for us as we scoped the isles trying to imagine the menus we'd be able to whip up with the little stock he had.

We departed El Pont de Suert and worked our pedals up a 13% stony path, taking us from 2,600 to 5,250 feet, while passing tiny villages along the way. The ride up was tough and though we could directly see our next destination, a hamlet baptized Sas, just beside us over the valley and on the ridge of another mountain, it could not be reached instantly. Instead, we circled around all mountainsides, accessing small passes before finally getting there. In the next town of Sentis -a two-house settlement- no living person was to be seen but in a front open courtyard stood a working coke machine. I popped in a Euro and we shared the ice-cold can before filling our water rations with the help of a nearby garden hose.

A long descent followed and we came by a small opening next to a creek with just the perfect setting and nodding, approved of this suitable campsite immediately. The great house neighboring the spot -a monastery, I think- was vacant at the time with the exception of numerous cats, wandering the premises, extremely interested in our presence and food. Fixing David's busted tube, we counted a total of four flats for him and two for me; thereby six in total including a rigged rip in David's back tire, which we had switched to the front, where it would cause less hassle. This tour had been and will continue to be a killer on our pneumatics.

Dinner: Green bell peppers, leek, beans and couscous in a cream sauce with Parmesan cheese.
Wednesday, September 14 - Day Nine
46 miles - 4,050 feet climb
"The element of safety is rather distasteful to a good many riders that prefer to run some risk, as it gives zest to the sport. The ordinary has a future, and will never be an obsolete pattern; it has far too many splendid qualities for that." - Bicycling World [1887]
This is the sort of day that makes you go, "Woah! That didn't go the way it was planned!" and it is just the kind which shows you some days you're the dog, some days the tree, one of David's favorite proverbs. An early morning out at 9:30 meant for us a great chance on getting a few miles ahead and catching up with our lapse. Then BAM! My back tube exploded and all the air shot out within milliseconds. We checked the wheel to find the side threads had been ripped apart, deducting this most likely happened dashing through some sharp-edged rocks, revealing a slit in the tire, where the latex tube had ballooned up and snapped. My WTB Nano, the cross-country tire I was using had but gone through 370 miles and had already capitulated under Pyrenean conditions. So we did some surgical patchwork with duct tape and a patch on the tire, slapped on a newly fixed tube and got pedaling, registering a lost of one full hour for this repair. There had gone our timely advantage over the day.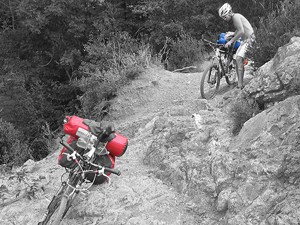 A bit of careful riding followed to ensure the fix would hold and all appeared to be fine, as we headed up a 12% incline to reach Guiró. Up in the mountains, we were forced to dismount, push and sometimes carry our rides through a labyrinth of red-rock formations, which were too narrow including steps too steep for riding. Up there and between the reddened walls, we got lost. We laid our stallions down on the summit at about 4,900 feet. David went one direction and I the other as we commenced a path-search on foot, looking for anything that seemed like any type of probable solution. It was hard to decipher a trail, a few narrow clearings looked as though they were something heading somewhere but taking them, they soon revealed themselves as nothing leading to nowhere.

We were stuck and the only plausible choice was to go backwards and scope for other paths, going either left or right of what we thought was our main track. We soon bumped into a fellow biker on a day tour of an organized trip he had booked. The organizers had given him a GPS to guide his way through and after a short introduction, we inquired if he could pinpoint our exact location on his device. It turned out he was trying to reach Guiró just as we were and -to our astonishment- he pointed a finger and
insisted the correct route was behind us. We argued that the way led to a dead end and that we were more convinced Guiró was in the direction the rider had just come from. The biker, trusting his GPS went his predicted path and we the opposite. After a short distance, we didn't like the direction we were headed and decided that, perhaps, the cyclist had been correct after all so we did a 180° and turned back on our tracks once more.

To our great surprise, we bumped into the man yet again coming back from the way he had reckoned to be right before, the same path we had come down when we first met him. "You're right," he exclaimed, "The GPS led me straight into a fence". We debated that we had been wrong all along but the rider seemed now persuaded otherwise. Once again our bikes crossed and we parted driving in opposite directions. We rode right up to the mentioned fence, gazing at it suspiciously, wondering if the fence was supposed to have been there at all or not. Further down the slope, we could decipher a paved road and, seeing no alternatives, assumed that it must have been the exact one matching our map; a road, which started in Guiró and would finally take us further on the right track.


We climbed over the obstacle and passing numerous colonies of grazing cows, were soon latching knee-deep in mud descending a very steep colon filled with thorny wild-growth. After a long hassle of zigzags and mud banks, we first took the street back up to the village of Guiró. The village was abandoned and in ruins but the pavement did really commence there so we were relieved. Riding down, we came across yet another abandoned hamlet, which we immediately compared to our map and found all in accordance. At least until we reached a town called Erto, for which there had been no symbol in our guide. At that point, we gave up and said, "Fuck it!" We had absolutely no clue as to where we were but the street was generally going east. So, going with the flow, we took the road, gambling we'd eventually reach a town where people actually lived. A while later, having dropped quite a deal, we perceived off in the distance a national road. This was our easiest bet to find our way. On the way there, we stopped at the ajuntament de Sarroca de Bellera. Luckily, the ladies there knew the area well and in the waiting room a large map hung on the wall. We immediately organized an alternate route, which would lead us approximately where we should have been hadn't we lost our track. Another advantage of this plan was that we would pass trough the city of Sort, where we could stock up and because of the apparent size of this small city on our map, we betted there may be bike shop there as well.

We took the national road, a very smooth and swift ride, down through Senterada, where we stopped for coffee and lunch in the company of two cats and a hen. Then, crossing through the villages of La Poblera de Bellvei, Montcortés and Permea, I could already noticeably detect we had made our way well into Catalonia because of the flags hanging here and there. Signs reading, "área privada de caça," made me laugh several times out loud but implied by the use of the letter "ç" we had changed regions.

On the way, a strange optical illusion took place as we rode the national road. Tough the road appeared to be going down at times, the numbers on my cyclometer and the resistance felt in the pedals told me we were going up. In fact, when the pavement seemed to be going straight, we were actually inclined 3%. I had also checked with David if he felt the road was going down in the distance and he confirmed. I'm still not sure why this phenomenon occurs but I try to explain it by imagining the mountainsides and trees, taken in our visual peripheral as a background, may have not been straight themselves, creating an imbalance and a belief that what we perceived was level.

The N-260, a road we had taken before and constantly crossed at random points, guided us all the way into Sort, where all the shops were shut, it being 4:15PM, the time of siesta. The narrow streets of city center resembled a ghost town. Had we been in Mexico, we may have panicked. On our tour the year before, an American had warned me, "If you get to a town, where nobody's in the streets and there's silence all around, get out of there cause the shit's about to hit the fan!" However, though the same language present, the fear of "something going down" in Sort was not on my mind. The scenery itself triggered that memory, which I dismissed with a grin.

In Sort, we sat down at a café, had a few cold soft drinks and chocolate croissants, after having washed our mudded feet in the sink of the establishment's bathroom. To our luck, the bike shop was open at 5PM but the sight of the person behind the cash register did not fit into the display of mountain bikes and gear. A small corpulent older woman asked us what we were looking for and it was obvious after my mention of needing a new tire, that this lady simply implied tire was tire and it seemed to fail her mind that there may be differences between them. I grabbed a Continental Race King 2.0" off the rack, a bit narrow for our use but nevertheless the most compatible that hung there, and paid a little under €20 [$27] for it, which is a fairly decent price. We purchased some patches but break pads were a little more difficult to get. All three shops in Sort -even the one selling bikes and guns!- offered no support but I already bargained our initiative would be a real long shot.

At our favorite Spanish supermarket, "Dia," we bought enough food to satisfy our needs and enjoyed cooled yoghurt drinks before continuing our travels. On the way, we gassed-up our cooker for a whopping fifty cents [70¢] since it had lost some of its content during the leak incident and arrived at La Noguera Pallarese, a river nicely suited for rafting, a great campsite and the best washing spot we have had this entire tour. Tomorrow, we'll start up steeply to Roní, which we can see from here but in the meantime we relax and prepare an appreciable warm meal.

Dinner: Sardines, green beans, olives, tomatoes with spaghettis and lots of cheese in a tomato sauce.
Thursday, September 15 - Day Ten
55 miles - 7,470 feet climb
"I began to feel that myself plus the bicycle equaled myself plus the world, upon whose spinning wheel we must all earn to ride, or fall into the sluiceways of oblivion and despair. That which made me succeed with the bicycle was precisely what had gained me a measure of success in life - it was the hardihood of spirit that led me to begin, the persistence of will that held me to my task, and the patience that was willing to begin again when the last stroke had failed. And so I found high moral uses in the bicycle and can commend it as a teacher without pulpit or creed. She who succeeds in gaining the mastery of the bicycle will gain the mastery of life. - Frances E. Willard [1895]
Still great weather, not a single drop of rain; the only sight of water outside the rivers, streams and sources was the morning dew, which rapidly disappeared once the sun peeked over the mountaintops. As hard as it had been yesterday to find our path, as simple as this task was today. We were even able to achieve a new total elevation record. We departed for Roní after having checked and oiled the bikes and changed David front break pads, which had by then become thin slices of almost nothing.

The climb was tough but smooth, as were the rest of gravel roads and forest trails past Roní. We topped out on the Coll de Barrette at about 5,600 feet and found a nice greened field with a café and picnic benches. While I went to grab a coffee, David fixed up yet another flat. I'm not counting the number of patches on our tubes anymore as they're becoming very numerous but he had hit a sharp rock and my back wheel still needed constant pumping every now and then. We took out our rations and had a nice lunch in a comfortable seated position, then rode on gentle trails passing remote picturesque stone villages; some abandoned fully, some habited entirely by elders.

At Castellar de Tost, a town reeking of cow dung and livestock business, we chewed down some cookies. It had been a smart choice to halt and rest -even for a few minutes- for what was to come would have wiped us clean of any carbohydrates. The terrain transformed into softer layers of smaller dried rocks, which slipped under our tires as we ascended wearily. Without traction on a 12% climb and bags of filled stock wearing us down, we were forced to dismount and continue a good part of the way by foot. That would have been alright if the obnoxious flies hadn't decided on joining our quarrel with the mountain by flying right in front of our faces, taunting us. You could almost hear them laughing as they tried to get through the glasses to your eyes or enter your mouths as you breathed in.

Reaching the apex, I pumped up my tire some more and we hit pavement, saying adíos to the small winged perpetrators as our velocity picked enough to lose them. We exchanged pavement for gravel once again, passing through several lifeless towns, bearing fountains, where our bottles were replenished. We are counting a total of one gallon per person and this has been our sum for a while mainly because we always have had the chance of resting near water and found an abundant number of sources to refill our drinking bottles, which we do at least twice a day.

We hit really nice tarred streets, which had seemed to be constructed for the sole purpose of road-biking. The winding 12% descent ended in a valley, as we pedaled towards a campsite -we had spotted on our map- called Molí de Fórnols. 6:15PM was the time when we got there. Deciding it was too early to stop just then, we continued on to Tuixén We also needed to buy some cold meat since we had devoured the Spanish sausage that lunch, which had been supposed to last for two days. Our legs demanded rest but we spiraled completely around and up the small city -or larger hamlet- to discover, our guide had once more failed us for Tuixén was without store though there should have been a counting number of two there.

We consoled ourselves with cold soft drinks and inquired on our next itinerary, the city of Baga, and a monster on our tour, where we would restock for two days and maybe find some bike gear. For tonight, however, we were prosperous again in finding a site just out of Tuixén. The ground was a bit dense so building the tent was somewhat of a conundrum, a game of trial and error for David, whom I watched, while washing my salt-stained clothes in the river, jabbing at the ground with pick in one hand, rock in the other. He'd get three in before finding rock-solid ground for the fourth and would have to start over again a few feet further. Nevertheless, cleansed and fed, we felt great and though rain clouds overhead and to the east were menacing us, they left us alone to cook, enjoy our dinner and sleep comfortably.

Dinner: Eggplant, zucchini, green peas with cheese and meat tortellini in a Roquefort-cream sauce.
Friday, September 16 - Day Eleven
52 miles - 7,970 feet climb
"Last year, at the time of the universal exhibition, in the midst of all its amazing wonders, I was surprised to see pass and disappear before my eyes two young men mounted on contraptions I could not fathom. A few weeks later, I saw arrive at the train station of Bezancours a man, mounted on the same object. This time, I could make out two wheels, a small one placed before a large one, a small seat, two hand grips, and two stirrups. The man descended, but the whistle of the locomotive prevented me from obtaining the name of this strange, I would almost say fantastic, machine. Recently, a sporting magazine fell into my hands. It spoke with much praise about a certain velocipede that I immediately recognized as my strange horse-vehicle." - A. Picart in a letter to Michaux [1868]
We got rain today! Isn't that great? Well it is if your day is over, you've achieved tremendous work and you're safe in a quaint and dry tent.

This morning, with Tuixén to our backs, we fondled with the idea of traveling to Baga by road, since we wanted to get there well before siesta. Otherwise, we would have to wait until 5PM and lose valuable riding time. It was fortunate for us, we stopped to question a man about the way. He pointed us right to a trail -the same indicated in our guide- telling us it would be better to cut through
instead of using the street, which looped around quite a bit, prolonging the distance to Baga considerably. We concurred and followed the "BTT Cadí Moixeró", an official MTB path and were not sorry. For missing that scenery would have been a lot like traveling to Paris without visiting the Eiffel tower.

We started up wider stone trails, sometimes dismounting, fewer times enjoying the luxury of riding. The view was stunning; a mixture of green mountain hillsides lined with coarse rocky trails, which seemed to continue endlessly towards the summit. We ascended to 6,200 feet and prepared ourselves for the down. I taped my camera to the handlebar, hoping to film the ride without having to draw danger to myself by gripping the camera with one hand. No, on this descent I needed both! It was spectacular and tiring for the craggy decline lasted some time. We made a tiny mistake at one point, taking a GR-single track, which turned out to be un-ride-able and a waste of a half hour. The stone steps were high but we eventually pushed through and one look on my cyclometer told me we'd do fine time-wise as we rapidly soared down the gravel path to Baga.

It was about ten past one when we entered the town and much to our surprise it was as if we had changed time zones. Siesta was now fixed at 1:30, half an hour earlier than we had been used to. We scurried to find a market and do our shopping as hastily as possible. While I was scanning through the aisles for cooking ideas or going through all the shelves searching for a specific item I couldn't find, it hit us; we didn't only need two days worth of supplies but three since the third day would be a Sunday and all would be closed. Our hands were working even swifter as we grabbed what we could while the annoyed clerks were closing aisle per aisle. Once we got to the register, I had no idea what half of the items on the conveyor belt were but was glad it seemed enough. Outside, we found a pandaria still open and sat down at a nearby café after having asked them if we could consume our own lunch there and ordered a total of six soft drinks and two "café con leche grande"; both for me, of course.

There are moments such as these where we are utterly in a drinking-frenzy and gobbling down a half a quart of Coca-Cola is no problem. You can look at it this way: A mountain-biker sweats about a little less than two pints per hour. Multiply that by the number of hours we ride and you'll see that acquiring the appropriate input of fluids would result in some heavy duty drinking, which is why we tend to automatically put this off till later. I'm not saying this is the "best" method; in fact it probably is the worst but when we ride we take minimum input since our concentration is more focused on getting about than keep ourselves hydrated. Sometimes on tours I'll wake in the middle of the night with an enormous appetite for water, which is why we keep a bottle right outside the tent flap.

We packed all the bought goodies in our carrier-bags, which was in no way an easy task. Fitting two days worth of food is tough, fitting three breakfasts, three lunches and three dinners requires much strategy, stowing items anywhere we could. My bags were ballooned, cramped and no more would enter. My gear weighed somewhere around 110 pounds, here David says I'm exaggerating a bit. Maybe it was ninety, maybe it's exactly like temperature and wind-chill-factor. I'm saying, my load-factor was 110 pounds but perhaps it was indeed a mere ninety. Still, now imagine you've got an ass which weighs 90 pounds more than it used to. Now, ride up over 3,300 feet of elevation! Well, that's exactly what we did.

Baga is 2,550 feet high, relative to sea level, and the Coll de Pal goes to 6,800 feet. So, we escalated 4,250 feet with our blubbery backsides and that's when it started to rain. At first it was extremely pleasant to be cooled by the trickles that evaporated off our skin and kept us from sweating but then on top of the pass things got colder as the wind picked up. We were forced -for the very first time on this tour- to layer our clothes. There, we devoured some cheap weird-tasting cookies, which David informed me later -thanks David- had already been opened prior to purchase. Which takes me to another important side note we have discovered while riding through numerous countries: Always check the packaging and consumption dates in small grocery shops as a lot of times the stuff on the shelves comes with dust, cobwebs dangling off the sides and the owner interprets "best by 03/00" as "not as good but still ok after 03/00".

Skidding down a wet dirt-gravel mixture, through ski slopes that were yet awaiting cooler weather, we took some time to slalom down to Molina, a ski resort, which was more dead than alive during this off-season time. The buildings, apartments, condos and shops were shut tight, creating a dormant atmosphere as if this had been a prolonged version of siesta. Molina, being in a valley between giants, was also a magnet for bad weather. Not too enthusiastic about the desolate place, lack of water sources and dark clouds above, we took the next pass and veered towards Toses. There, we made a pit stop to down some red bulls, David having to exchange his because of the threatening fungus that had been growing on top of the can [like I said ... double check!]. Just after Toses, we found a swell spot in proximity of train tracks with a river nearby and not too far off road.

The sky had slowly cleared up to induce hope of good weather for tomorrow. If not, it's not a problem anyway since we console ourselves with the fact we are traveling east towards the Mediterranean, where sun would prevail over rain. We are also immensely proud of our 7,970 feet of climb total achieved today, which is a record including our maximum elevation of 6,800 feet, which is itself the highest we would get on this tour.

Dinner: Zucchini, carrots, potato purée with spicy sausage-slices and cheese.
Saturday, September 17 - Day Twelve
48 miles - 4,670 feet climb
This is the day we felt the book starting to close itself. We sensed the end of the tour and witnessed the last puzzle pieces coming into place. Our time scale suggests we would optimally reach Canet, our last destination, as planned, on Monday evening. The sky switched back from gray to blue and we enjoyed rays of warming infrared while joyfully eating our Honey Smacks with milk on the grass before the tent.

We kicked the first pedal strokes on paved road, riding through Planules and reaching Ribes de Fresco, a busy touristic town filled with hikers, motor-bikers, Andorrans and a few scattered cyclists. We sat down to a coffee and bought sugar and salt at the grocer's, two extremely important raw necessities, we would have sadly lacked if Ribes, like many other towns we traveled through, had had no stores. However, Catalonia appears to be far richer and profits quite a deal from tourism so commodities are plentiful. Even signs along the path for both hikers and bikers are no rarity in these parts. A little help lent from a local jogger veered us on our way, which would lead us up to our -last- great ascent. Steep and rocky was the path and soon the sweat began to pour. Our legs were a tad fatigued from the day before but the spirit willing and aided by steady rhythm we climbed some 3,800 feet to Collette de la Gralla at 6,750 feet height.

We luncheon-ed behind a refuge house to shade ourselves from the sun but soon found it quite chilly there. So we switched shadow for sunlight, sitting between dried piles of cow dung. From our position, we gazed at the massive giants of mountain peaks, circling all around us, enclosing the area and our trail with it. We had seen the refuge long before having reached it, resolving to have a break there. However, to get there was far longer than anticipated since we had to circle around the mountainsides to cross various passes before finally attaining our resting place. At times, it can become frustrating in the mountains, where perspective is fowled, to make correct estimates on distance.

My back tire had been constantly loosing air so I decided to exchange the latex tube with a regular one. But a quarter of an hour later, as we descended in the direction of Tregurà de Dalt, my back tube exploded having been pinched between two rocks. The advantage of latex on these roads was clear. On a side note, we should have opted for -tighter- tubeless tires instead of using the lighter version. This would have added weight but been less of a hassle in the long run; a lesson for future tours. The latex tube went right back in and I found myself pumping the tire several times before the day took its bow.

After Tregurà, we hit asphalt and zoomed rapidly through Vilallonga de Ter, where we downed some cold beverages, then Camprodon and San Pau de Seúguries. My sugar bag blasted as white dust filled and covered all of the belongings in my dry bag. While cleaning out the sticky mess, we discussed the closure of our adventures and what the following two days would bring. The changing of scenery around us probably triggered the discussion. Mountains were getting noticeably meager. In Camprodon, we were seeing houses with picked fences and enclosed gardens. The familiarity struck us as odd, having not seen these artifacts since the Atlantic. We knew the Pyreneans were almost done for and our last apex of a mere 3,300 feet lay before. We rode out of Sant Pau, mocking the tiny rises on our paved track until we hit a suitable camping site with running water.

We attended to fixing the microscopic holes in two latex tubes by holding them in water and pulling to reveal tiny bubbles, a task which required much patience. David's back brake pads were -as suspected- awfully thinning out, so I switched one side with an older brake pad's best looking side and recommended using the front brakes as much as possible and the back in the case of an emergency. Furthermore, I trued my back wheel a bit, which had taken a few hits, as have chains and cranks; this tour was most definitely hard on the material. Just finishing with last repairs, the bad weather closed in and it started to rain.

David deftly set up the tent while I organized all of our belongings, as we got ready for the worst. We stayed outside until the downfall picked up and then decided to retire -dirty and hungry- to the tent, waiting for the clouds to blow over. About an hour later, the sound of raindrops against the nylon walls ceased so we ventured outside to wash ourselves rapidly and economically. Then we prepared our dinner, gazing at the sky, questioning as to how much time it would leave us at peace. We tuned our supper down to speed up our cooking by using canned food, which we pepped up a bit. The result was rather tasteless compared to the gourmet meals we usually prepared. Still, the stuff was edible and satisfied our depleted reserves.

Tired by now but chipper that all is going superbly according to plan, we take to our sleeping bags with hope of cleared skies in the morning. Our bodies would now have to relax and ready themselves for duller ascents and reacclimatize to the "real" world that lay ahead.

Dinner: Canned ready-made Paella with noodles (not rice, including one whole mussel), pimped with more noodles, tomato, green peas, an onion and a carrot.
Sunday, September 18 - Day Thirteen
59 miles - 4,610 feet climb
"Every wall is a door." - Ralph Waldo Emerson [1844]
What a fucked-up day! Our wish for nice weather was granted with the exact opposite extreme. All night long, heavy thunderstorms and rainfalls came and went every half hour or so. A small stream had spawn from above and was flowing right underneath our tent. It felt as though we were sleeping on a waterbed, which sounds nice at first but kept us awake at times in fear, the water would infiltrate through the floor. The morning was gray, damp and cold. We had our breakfast half in and half out of the tent like groundhogs, which would have preferred to stay in their burrow. There was no shadow to be seen anyhow.

Slowly -perhaps a bit unwillingly- we got ready to face the scorched climate. Dismantling the tent was the absolute last task we attended to; in case heavy rainfall would have forced us to seek shelter. One last look up and off we fled. Indeed, we may have covered a fair deal of distance today but solely because the search for sunlight was propelling us forwards. In fact, there wasn't much one could do except pedal. It made no sense to stop; we would have just frozen up when our muscles ceased their motion. So we made our way up the last major climb of our tour, some 1,700-2,000 feet up. Unfortunately, I can't say for sure how high we biked because the cyclometer decided to strike due to the bad weather. I can't blame the piece of machinery but had to wonder why the material was getting a break while I wasn't.

We -nevertheless- traveled onwards and caressed the Coll de Riu at about 3,300 feet altitude. The way was barely manageable; 15% climbs on wet gravel and rock surface, which made the tires slip underneath. Add the frustration, the bitter cold outside and the wetness from the sweat inside and you can understand why our humor hadn't taken to huge smiles and roaring laughter. In the distance we could make out a clearing and a patch of blue but it taunted us by moving ever so further away as we approached it. We were chasing a mirage but were constantly nagged by the rain, which would die off every now and then only to pick up again.

In this state of dampened spirit, I couldn't intake much of the surrounding scenery. Maybe it was majestic, spectacular and enchanting but under the circumstances, I just starred straight on and drove my feet into the pedals. On the way down from the Coll de Riu our hands went numb from the soaked paws and wind-chill. Not even the descent was enjoyable. By the time we got to the village of Albanyà, we were so drenched, hungry and cold that we decided to eat at the sole restaurant there. We had salad, pork cheeks and fries, while resting a bit, warming a bit and drying a bit. Fatigue was settling in and we would have probably loved to have lingered there for hours, maybe have a nap right there on the table, but decided it best to push on before our eyelids fell and movement would become challenging.

The more we'd fight this weather, the better the chance would be of finding sunlight and the closer we'd get to our destination, which appeared closer than ever before once we passed La Jonquera. I knew this city. It's an ugly site, a pile up of buildings, supermarkets and cheap hotels. The entire vicinity is spread out along one side of a major highway. This is the place the French cross the border to entice in mass shopping for cheap alcohol, olive oil and cigarettes. I had gone there several times myself but have grown to despise such places, where over-materialism attracts bargain goers, who don't give a damn for the surroundings, the language or the culture. It's a place to meet French people, not Spanish, and nag about the meaningless het ups of upper-middle class life. However, it was a sign for us that we were getting very close. In fact, we could have grabbed the national road and headed straight on towards Perpignan if we hadn't been true to our word to finish off the remaining hills of the Pyreneans to the coast. Anything else would have been considered cheating in our minds and we would not have had any merits or laurels completing this journey had had to offer. Every last pass would be taken, as miniscule as it might be.

In the evening, we exchanged rain for another one of nature's favorites: Wind. Strong gusts were blowing from the coastal shore up the foothills. It was getting late and we decided we didn't need to scope for a suitable water source since we had been washed all day and no clothes needed cleaning because the last articles would be worn the next day. We pitched the tent in a field between grapevines and watched it free itself and fly off a few moments later. David reinforced the dwelling with stones and used every pick we had to stabilize the infrastructure as the tent danced with every blow it received. We prepared dinner, sitting very closely around the cooker to protect it from the wind as a curious frog hopped around, stood to watch us and sometimes dangerously tried to make its way into the flames. I was thinking, "frog legs tonight," but opted for something more tasty and fulfilling.

As I lay in our nylon home, writing, the winds are whipping our tent walls and it feels as though the complete structure will rip apart at any moment. I can hear it chaff us with perseverance like the wolf, "I'll huff and I'll puff and I'll blow your house down!" Trying to get some shut-eye here will be toilsome with all the motion and commotion but the pleasant notion of having caressed a few rays of sunlight at the end of the day mixed with the assurance that our project had become tangible and our objective was so close, is triumphant and eases the mind, relieving the stress of doubt. These past two days are feeling like the ultimate final exam before passing on to a higher grade.

Dinner: Broccoli, green bell peppers, tomatoes with tuna and pasta in a tomato-cream sauce and two types of cheeses.
Monday, September 19 - Day Fourteen
66 miles - 5,590 feet climb
"To travel hopefully is a better thing than to arrive and the true success is to labor." - Robert Louis Stevenson [1881]
The question arises; "Did you make it?" The answer is probably simpler to deduct than anything else. If we hadn't, I wouldn't have written about it. Yes, we made it!

There was that tremendous relief and elation, riding right up to the door of our apartment building in Canet-en-Roussillon; to halt one last time, to stroke the pedals one last time and at about 6:20PM our tour achieved its designed intent. We shared a cheer, a high five, a hug, a laugh and then a sigh.

That morning, the wind had not died down but continued to blast hard as we packed up -one last time- and mounted our metal stallions towards Llança, where we'd meet the ocean of middle earth, the Mediterranean. The passes were indeed mere mounds of dirt in relation to the mountains we'd climbed in the heart of the Pyrenean range. At lunchtime, we reached Llança and ate on a small pebble beach, overlooking the great mass of blue rippled waves before us. We dipped our feet deliberately in the ocean water as we had done fourteen days before in the Atlantic. Now, all that was to be done was to cross the border and coast up the shoreline of France to reach Canet-en-Roussillon.

The littoral between Spain and France is not flat but the climbs are manageable and the roads paved. The difficulty of creeping up was the Tramontane, a strong wind that goes through the French Massif Central and scrapes the entire region of Languedoc including the coast of the Mediterranean. The violent gusts can take you completely by surprise and because it feels like you're being beaten and abused by them, the Tramontane is known for driving folks mad. We would be pedaling along, minding our own business, when suddenly a blow would slap us right in the face causing our bikes at times to cease all motion or even to be driven back a bit. The few seconds after the burst dies off, you're left dazed and zinged. Anyone who's witnessed this knows what I mean by saying, "we got the wind knocked out of us."

We forged ahead, past the numerous flurries, and past the coastal towns of Portbou, Cerberes [the first city in France], Banyuls and Collioure. This last town is one of my favorites. We halted a while there to enjoy a coffee and Fanta and wandered through the shopping streets, where various artists displayed their talents. Collioure is picturesque with its stone church tower out on the jetty, narrow streets filled with cafés, stores of artistic craftsman-merchandise and petite pebble beaches, which would overcrowd every summer. The tourists here are of a different caliber. Most had fallen in love with the place and returned regularly, not only to savior the anchovies and Banyuls wine but because Collioure resembled exactly what one would imagine a southern French coastal town should look like. The laid back mentality of the southern French complements the scenery very well, so that tourists may declare, "This is exactly what life should be like."

Back on our saddles, the terrain flattened out as we past Argelès, St. Cyprien and entered Canet-en-Roussillon, a purposely-built sea resort hosting various badly constructed concrete buildings, casinos, discotheques and a tourist promenade. Still, the setting is very nice and our -fifth floor- quarters overlook the harbor, where clean fancy sail and motor boats rest tranquil, some of which would not be budged for the entire year but were constantly bitch-oned by their owners.

We got busy hauling all our gear and bikes up to our one-room tourist-flat and gazed around at the unfamiliar environment; beds, toilets, a shower, a stove, four walls, a door and a mirror. What a treat to see one's own reflection, what a drastic metamorphosis. The wild-look hairstyle, the shaggy beard and darkened skin shocked slightly. I immediately commenced work on myself by trimming the facial hair and grabbing a shower, note: A warm-water shower.

David switches on his cell, I go downstairs to see at what time the internet café would open; reality creeps back unnoticeably into our lives. It wouldn't take very long for us to slip back into it and forget some of the instincts we've developed. We'd soon turn to the GPS-Navigator to find our way, be too lazy to use the stairs by going a few flights up with the elevator and become overwhelmingly submerged with daily tasks and helter skelter. However, for now, it's time to chill out and enjoy the beach, the sun, and, tonight, a Catalonian dinner. We're forced to say adíos to the Pyreneans and it will probably take us some time to realize fully the magnitude of our enterprise, or perhaps never. In a way, it's too bad the mountains didn't persist on and on forever but finishing the task was what we had set out to do and we reached greatness, at least in our minds and for ourselves. We've done
something not very many would even consider venturing into and best of all we succeeded.

Like the Pyreneans divide two countries, I am left separated. There's the tour Jeremy and the everyday Jeremy. I'm left wondering which is which, lest I daydream while paying the accumulated unpaid invoices that pile up on my desk and wonder where my legs would take me next. The silence of the mountains is something I can enjoy while the silence during everyday life is waved off as boredom. Some will ask me, "What's next?" and I'll know they're asking me what tour I have planned in the back of my imagination. For now, nothing but I guarantee I'll soon be "on the road again."

Dinner: Restaurant tonight! Calamar a la planxa; squid fried on an iron plate with garlic and herbs.